When it comes to choosing eyeglasses, there are a lot of different options to choose from. Two of the most popular choices are Pearle Vision frames and GlassesShop frames. But which one is better? In this blog post, we'll compare the two and help you decide which option is best for you! Let's get started!

Pearle Vision Review

Pearle Vision is an American retailer that owns various eye-care stores in North America. This company was founded in 1961 by Stanley Pearle. However, in 2004, an Italian eyewear company, known as Luxottica, acquired it. Pearle vision frames are known to be one of the best frames on the internet.

Pearle Vision has now 110 stores and 419 franchises all over North America. They have a large collection of frames along with branded glasses like Prada, Vogue, Versace, Oakley, etc.

In this section, we'll discuss the features along with the variety of Pearl Vision eyeglasses. Since it offers a wide range of glasses, it would be better for you to read about them briefly.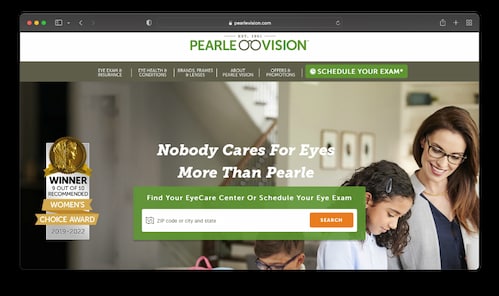 Services by Pearle Vision

Here is the list of some main services provided by Pearle Vision:

 Eye Exam

An eye exam is taken by Pearle Vision before providing your prescription lenses. They will determine the strength of the eyes based on some tests like reading small alphabets, testing light sensitivity, color vision deficiency, or any other problems.

Moreover, an eye exam also helps you in diagnosing eye problems like dry eyes, digital eye strain, allergies, etc. An eye exam would take approximately 30-45 minutes. However, it could be more depending upon the number of tests.

 Frames & Lenses

Pearle Vision offers a vast number of frames with various styles. Furthermore, you can choose lenses of your own choice. For example, prescription lenses, computer glasses, anti-blue ray glasses, anti-fog glasses, night driving glasses, and more.

 Branded Glasses

Pearle Vision delivers glasses from various popular brands like Armani, Ray-Ban, Burberry, Designer, Polo, etc. Also, you can fit your prescription lenses into any of these brands' frames as per your desire.

Price of Pearle Vision Glasses

Since it doesn't offer any online purchasing service, the price of Pearle Vision eyeglasses depends on several things. The price could vary according to your location, the lens according to your prescription or desires, etc. Moreover, you might need an eye exam first to determine the prescription of glasses. Hence, that will include extra charges.

Features of Pearle Vision Frames

 Comfortable to wear for a prolonged duration.

 Light-weighted, but rigid material.

 Prescription glasses according to your needs.

 Glasses from popular brands.

GlassesShop Review

GlassesShop is one of the most fascinating and creative online eye glasses retailers. It offers numerous styles of frames and lenses at affordable prices. The journey of GlassesShop started back in 2004 in Michigan. And today, it's one of the largest online eyeglasses stores in the world.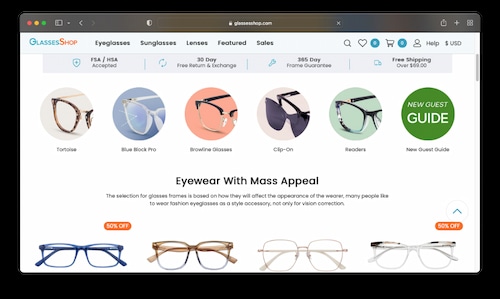 Services Offered by GlassesShop

There are some outstanding services offered by GlassesShop that will stun you for a while. Let's get to know them.

 Prescription Sunglasses

This is probably one of the best things that anyone has ever heard of. There are many folks who want to wear classy sunglasses; however, the problem is weak eyesight. But with GlassesShop, say goodbye to this problem. Because now, you can get prescription sunglasses of your desired style. This allows you to wear your favorite sunglasses with the right prescription lenses.

 Upload Prescription & Get Suitable Glasses

While purchasing Glasses from GlassesShop online, you can choose to upload your prescription given by any expert. It has helped many people who can't type their prescriptions. Instead, just click a photo of your prescription and upload it. And you'll get the appropriate glasses.

 Customized Lenses

You can customize lenses according to your needs. Like you can choose the lens type as clear, blue block filter, or photochromic. Moreover, you'll be asked to choose the thickness of the lens. This won't affect your prescription in any way.

 Order Only Frames

If you already have the prescription lenses, or your frame has broken, you can order only the frame from GlassesShop online. There will be no extra charges for ordering the frames. However, you may need an expert to fit the lenses into that frame if you don't know how to do that.

Types of Glasses

1. Tortoise
2. Blue Block Pro
3. Browline
4. Clip-on
5. Readers
Price of GlassesShop Glasses

The price of GlassesShop glasses starts from as low as $9.95. However, with the customizations like lens prescription, type, and package, it will be a few extra bucks. But it's still more affordable than any other eyewear retailer.

GlassesShop charges only for the features you need. Moreover, if your product/s costs more than $69, there will be no shipping charges applied to your order.

Features of GlassesShop Frames

 Diverse styles and designs.
 Customized lens thickness and shades.
 Prescription sunglasses with accurate vision.
 Cozy frames curved for ears and saddle nose bridge.
 Negligible weight with the strong build quality.

Pearle Vision or GlassesShop - Which One Is Better?

After examining both platforms, GlassesShop wins over Pearle Vision. There are several reasons why GlassesShop is better than Pearle Vision.

Online Availability of GlassesShop

This is the main reason why GlassesShop is superior to Pearle Vision. Because not everyone likes to go to a store and then spend a lot of time thinking about what to choose. But with online availability, you get access to numerous types of glasses. Moreover, you get the digital try-on feature on Glassesshop to check whether the frames would suit you.

Customized Lenses

People love to have customized things and this rule applies to Glasses as well. GlassesShop does really a better job than Pearle Vision to offer a vast range of customized lenses.

Affordability

GlassesShop frames are affordable for a lot of people. While Pearle Vision has costly frames including some big brands. This is also one of the big reasons to stick to GlassesShop. Because it offers good quality at a reasonable price.

Conclusion

Since you already know which is the best platform, you shouldn't be thinking more. Pearle Vision frames are good but a lot more expensive. However, GlassesShop offers professional frames at reasonable prices. Who doesn't like customized glasses? And yes, GlassesShop does it better than anyone else.

FAQ about Pearle Vision Frames
1. Are there any alternatives to Pearle Vision?

Pearle Vision is a leading provider of eye care services, but it is not the only option available. Other companies, such as LensCrafters and GlassesShop, offer similar services at comparable prices. As a result, there is no shortage of options for those in need of eye care services. While Pearle Vision may be a leading provider, it is not the only option available. There are plenty of other companies that offer comparable services at comparable prices.

2. GlassesShop vs Pearle Vision, which is Better?

Both companies offer a wide range of services and products. However, there are a few key differences that can help you make a decision. First, GlassesShop offers a wider selection of lens options, including bifocal and progressive lenses. Pearle Vision also offers a wide range of lens options, but they tend to be more expensive. Second, GlassesShop offers a larger variety of frame styles, so you're more likely to find something that fits your taste. Ultimately, the best choice for you will depend on your specific needs and preferences.