How Do Polarized Lenses Work?
Polarized light is created when light is reflected off horizontal surfaces such as roads, water, or snow. We are able to keep this light from affecting our vision by wearing lenses with a vertically oriented filter. Polarized lenses feature a special coating that makes them block horizontally polarized light. In other words, the filter only allows vertical light to pass through. They shield your eyes from annoying glares while letting non-polarized light through. This provides better visual acuity compared to standard tinted sunglasses.

Reduces reflections and
eliminates glare

Allows for true perception
of colors

Reduces eye strain

Lmproves contrast and
visual clarity
Why Choose Polarized Sunglasses?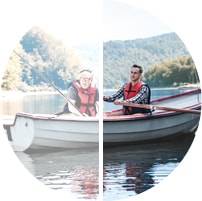 Fishing & Water Sports
Polarized sunglasses protect your eyes around water by blocking glare reflected off the water surface.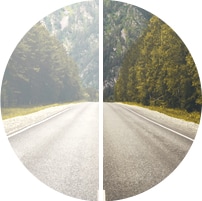 Driving
Polarized lenses block glares from smooth road surfaces during driving. Make sure you can read your dashboard displays through the lenses!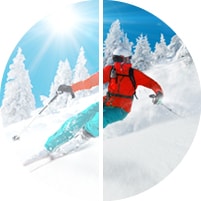 Hiking & Snow
Polarized lenses are useful for hiking trips that will take you to exposed places like mountaintops, especially in snowy conditions.
How to Tell If Your Lenses Are Polarized
If you're unsure if your sunglasses are polarized, here's a simple test to check: Look through your lenses at the screen, and rotate your glasses to a 60°angle. If the lenses are polarized, they will turn black.
How To Add Polarized Lenses



Now you can add polarized lenses to your prescription or non-prescription sunglasses.