The eyeglasses frames are hold up by the nose and two ears which are the focal points of the frame weight. The two places are also often easy to feel the pain with glasses on. How to wear eyeglasses in the right way and get rid of the red marks on nose bridge left by glasses? The wearers need to make some adjustments or take some measures according to their own cases.
There are mainly three reasons why it is comfortable to wear eyeglasses frames.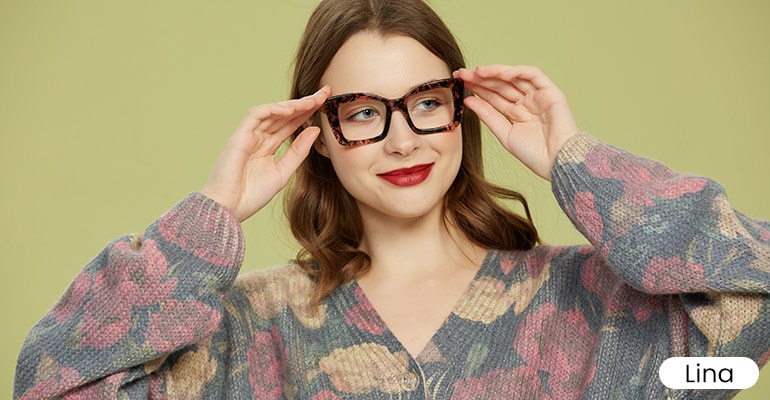 1. Asymmetric Eyeglasses frame
The asymmetric frame causes the different weights between the left half and the right half. It will offset the weight of the glasses to one side, thus putting pressure on the nose or ears. In this case, professional technicians are needed to make adjustments and corrections with technical tools or have it processed in a professional optical shop.
2. Wrong Position of Glasses' Nose Pad
If the nose pad position is not upright, the touch between the nose pad and the nose doesn't belong to the full surface touch, so the pressure on the nose will be enormous. After a long time of wearing this kind of frames, the nose will leave "red marks".
Expert Tips:
The nose pad should be as down as possible and it should be put on the nasal bone instead of the place with fresh. What's more, the distance between the two nose pads should also be as wide as possible.
3. Heavy glasses frames
Some glasses frames are of elegant designs but not with lightweight. Long-time wearing could put pressure on the nose and ears. Therefore, when you choosing spectacles, you had better choose lenses and frames whose material is light-weighted, especially for those whose degree is very high. The lens itself has already been very thick and if the frames are heavy, too, the pressure on the ear nerve will be huge.
Having reading the tips of how to wear eyeglasses properly, you can have your frames checked to see if there is any problem with it, like weight, nose pad, etc. Enjoy the fashion eyeglasses and try to relieve the pressure of eyeglasses frames on the nose and ears, so that you can get rid of the red marks on nose.