Terms & Conditions
* Valid only for a first purchase at GlassesShop.
* Only one free pair of glasses per customer and prescription.
* Both shipping fee and handling fee will apply.
* Only available for frames on this page.
Complete Pair Include:
* Free 1.50 Single Vision Lenses
* Free Anti-Scratch Coating
* Free Protective Case & Cloth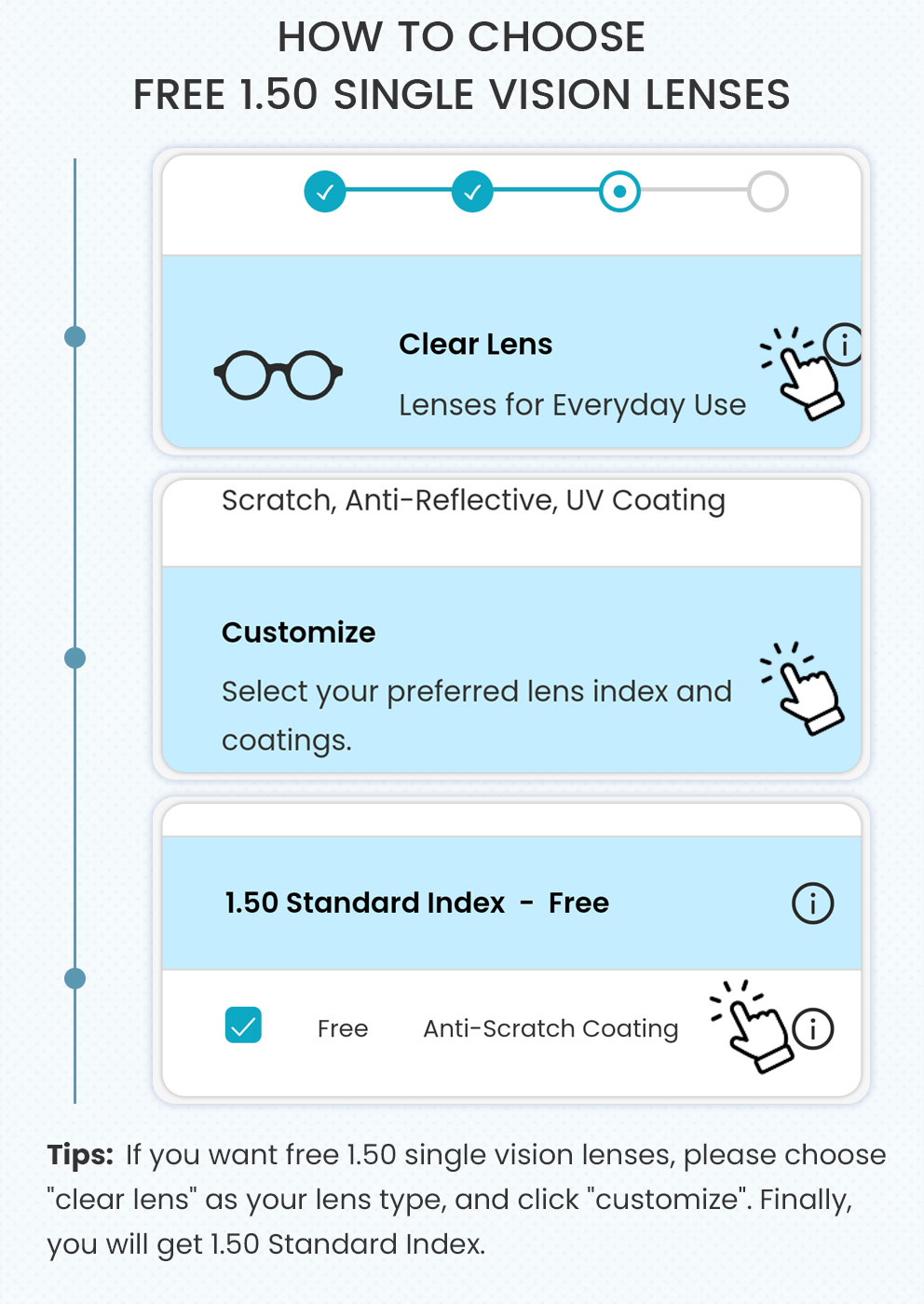 Files: JPG, GIF, PNG, JPEG Max file size is 10 MB
Turn on the Camera
Take Photo
Drag the box to crop the image
Adjust the Image
1.
Drag the
RED
target to the center of your eyes.
2.
Adjust the photo with the bottom controls.
For Best Results:
1.
Keep your face forward and level.
2.
Use a photo without glasses.
3.
Refrain from tilting your head or using a profile picture.
SET PD
CONFIRM PHOTO
BACK
Frame too large or too small?
check its
dimensions
or select a different size or style
FAQs
What are Free Eyeglasses?
If you haven't ordered online at GlassesShop before, you can get a pair of eyewear frames with eyewear lenses in different brands and shapes costing nothing on your first purchase.You can have a stylish pair of prescription eyewear with eyewear frames and eyewear lenses online only for a basic shipping and handling fee without buying one, but you only get one chance for this campaign.
Can You Only Get a Eyewear Frame Costing Nothing?
No, in addition to a trendy pair of eyewear with best insurance, we also offer you 1.50 single vision lenses, Anti-Scratching coating and protective case as well as microfiber cloth, which are all free of charge and of best insurance.
Are the Prescription Glasses with Frames and Lenses You Get through This Campaign Different from the Ones You Buy?
No, you don't have to worry about that. Styles and brands of the prescription eyewear with eyewear frames and eyewear lenses are up to you to choose freely online. The prescription eyeglasses at GlassesShop are of high quality and best insurance to bring you a finest vision. Meantime, as always, we're still offering an online try-on, which allows you to place your order after you've seen it on you.
How will This Campaign Benefit You?
Through this campaign, you can get prescription eyewear frames with eyewear lenses for free online. In addition, you can experience our best services and products without any worries. If you think our products are good, you are welcome to shop again and buy back later online.
How many Styles of First Free Eyeglasses are there to Choose from?
There are about a hundred of first pair of free eyewear frames and eyewear lenses online for this campaign which have various brands, colors, shapes for both women and men from different designers.